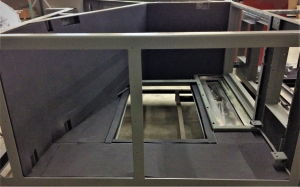 September 2018: Insulation Matters
LCS insists on changing out the insulation on all of their HVAC Overhaul Units.
Here is why it is a crucial step in the Overhaul process.
The manufacturers of HVAC Units still utilize insulation panels made of fiberglass, with a coating to prevent water damage. This is far from ideal. After a few years of a unit being in operation, this coating becomes worn and cracked, therefor making it susceptible to taking on water. When water is taken into this fiberglass insulation, it mildews quite quickly and is therefor contaminated.
Locomotive Climate Solutions addresses these issues by replacing it with a much higher quality, higher-end insulation. LCS insulation is lightweight, it will not crack, and it will long outlast the AC units themselves. It is water-repelling and mildew-resistant, and exceeds all ASTM fire and smoke protection requirements.
Locomotive Climate Solutions believes that insulation is a crucial step in the Overhaul process, as the quality of air you breathe is no small matter.